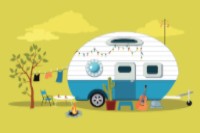 Lessons Learned:
If You don't explore, you're just travelling!
An early lesson in RVing was to slow down and enjoy your surroundings.
Winnemucca has a wealth of unusual, educational and interesting things to do that you aren't going to find just anywhere.
You can enjoy the Humboldt County Museum which houses a vast array of items ranging from the bones of a mammoth (which were found locally), an early model horseless carriage and items depicting the Roaring Twenties for a start.
Need something with a bit more outdoors to it?  How about going to the Royal Peacock Opal Mine to try your hand at mining opals?  Granted this is a bit of a drive, so plan on a day trip.
Or plan on visiting some of the ghost towns around our part of the world.
Need more ideas?  Give us a call and let us help you decide what to see while you are here.
And, BTW, don't forget that you don't have to bring your RV to Winnemucca to explore everything there is to see.  You can reserve one of our park models and have the best of both worlds!
Best of all?  I can promise you that it won't cost you as much as a trip to Disneyland and will be way more educational and fun!
Looking forward to seeing you!
What's Cooking?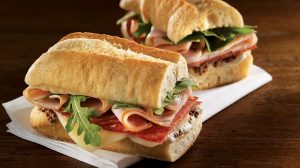 (With all that exercise from Exploring our part of the country, you are going to need some quick sandwiches to take along.  Here is one we like.)
Main Italian Sandwich
INGREDIENTS
 1 pound sliced deli ham, each slice cut into 3 pieces
 8 slices white American cheese, each slice cut in half
 2 sour dill pickles, sliced very thinly lengthwise
 1 tomato, sliced
 12 Greek olives, pitted and sliced
 1 small onion, diced
 1 small green pepper, sliced lengthwise
 4 soft hoagie rolls
 extra virgin olive oil, the good stuff
 salt and pepper
PREPARATION
Cut sub rolls in half lengthwise, but not completely through. Layer cheese and ham on each of the rolls. Place a layer of diced onions in the bottom of the roll. Lay sliced pickles up against the ham. Lay tomato slices up against the cheese. Top sandwich with strips of green pepper. Sprinkle with sliced Greek olives. Drizzle each sandwich with olive oil and sprinkle with salt and pepper. Enjoy!
Serves: 4
Thank you Kate and Good RV Food for the great recipe!
What's Happening!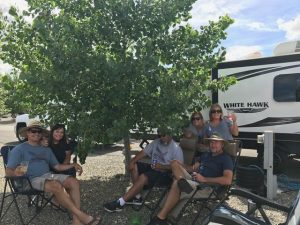 Ah May!  Warm weather is here and it's time to get out and about.   Here are some local events to put on your calendar:
May 5         Cinco de Mayo dance
May 9-12    Newmar Kountry Klub RV Rally
May 15       Royal Peacock Opal Mine opens
May 19       Safe Haven Wildlife Sanctuary Fundraiser
May 24-28   Nevada State High School/Jr. High Rodeo Finals
May 25-29    Run-A-Mucca Motorcycle Rally
And just in case those don't get you ready to book a stay, you can always celebrate:
May 5                Cinco de Mayo
May 9                Lost Sock Memorial Day
May 18              Bike to Work Day
May 23              World Turtle Day
May 28              Memorial Day
Any of those are a great excuse for booking a stay and heading out.
Give us a call at 775-621-5277 or Book your reservation here or at our website.
Hope to see you here.