LESSONS LEARNED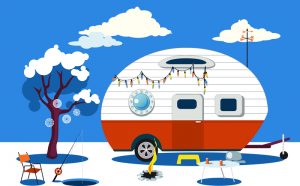 I Hate Winter!
No I don't.  But I do start getting cabin fever about this time of the year.
A quick getaway for a weekend sure helps tamp those winter doldrums down.  The big problem is that we really don't want to go to the trouble of taking the RV out of hibernation for that quick getaway and then having to put it back into hibernation when we get back.
What to do?  Well, my suggestion is to book a park model at your favorite RV park and make that getaway happen.
Why a park model instead of a hotel room?  Well, let me give you my list of reasons:
1.)  A park model has more room than a hotel room so you can move around, not have to watch TV in bed, and you can make hot chocolate to drink while watching a movie.
2.)  Don't worry about putting out a Do Not Disturb sign if you want to sleep in.
3.)  You don't have a common wall with anyone so you don't have to worry about hearing someone coming and going all night long.  You also don't have anyone moving around above or below you.
4.)  You can cook your own dinner for that romantic evening you have planned.
5.)  It won't cost you as much as renting a bungalow, or a bed and breakfast.
There are a gazillion more reasons but you already know that, right?
Valentine's Day is coming up and it would be the perfect time to get away for that romantic stay.  (Don't forget the chocolates, though.)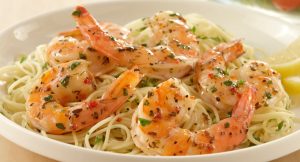 WHAT'S COOKING?

Linguini with shrimp scampi
How to Make It
Step 1
Cook pasta in boiling salted water according to package directions; drain.
Step 2
Heat 1 tablespoon oil in a large nonstick skillet over medium-high heat. Add half of shrimp, and cook 1 minute on each side or until opaque. Transfer shrimp to a plate, cover, and keep warm. Repeat with 1 tablespoon oil and remaining shrimp.
Step 3
Melt butter over medium heat in same skillet. Add remaining 1 tablespoon oil, garlic, and red pepper; sauté 3 minutes or until garlic starts to brown. Stir in cooked shrimp, parsley, lemon zest and juice, and salt; cook 1 minute. Add pasta, and cook 1 minute or until hot, tossing constantly. Serve immediately.
Thank you to myrecipes.com.
WHAT'S HAPPENING!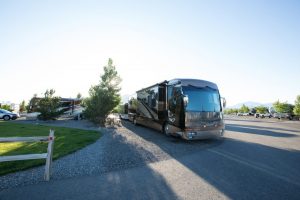 February is the perfect time for a quick getaway.  Check out these dates:
Feb. 16-17  High Desert Challenge Wrestling Tournament
Feb. 28         Ranch Hand Rodeo Weekend
And just in case those don't get you ready to book a Park Model, you can always celebrate:
Feb. 2       Groundhog Day
Feb. 9        National Pizza Day
Feb. 14       Valentine's Day
Feb. 22       National Chili Day/National Margarita Day
Any of those are a great excuse for booking a Park Model and heading out.
Give us a call at 775-621-5277 or Book your reservation here or at our website.
Hope to see you here.