Lessons Learned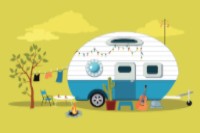 The end of 2017 is closing in on us but that isn't a reason to not be RVing.
With today's RV's you can stay warm even in the coldest of weather.  Yes, there are some worries (like protecting your pipes) but with a little forethought they shouldn't prevent you from enjoying a winter holiday away from home.
Need some reasons for enjoying the holidays in your RV?  How about these?
1.)  A small kitchen means you can't fix a huge meal.  Fix those things that you love and let the others go.  Better for your mental state and for your waistline.
2.)  You can't fit everyone into the RV.  Now you can celebrate with just your spouse and children.  Get back to what is important.
3.)  You don't have to worry about getting pine needles out of the carpet!  Decorate the tree right outside your window and watch how lovely it becomes when the snow starts falling.
4.)  Now you have the perfect excuse to build a fire in the fire pit, make your favorite hot chocolate drink and enjoy the warmth of sitting around the fire.  Since you have the Christmas tree outside think about opening the presents outside where the mess will be easier to clean up.
5.)  A lot of RV parks plan a Christmas dinner where you can meet a lot of people from all over the U.S.  You are going to find out that there are a lot of different Christmas traditions that you haven't even thought of but may decide to adopt.
Finally, just enjoy a relaxing, stress free celebration.
What's Cooking?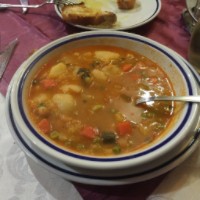 How about some recipes for those drinks around the fire?
Spicy Mocha Buzz
This morning drink is perfect for people who like a little heat. Prep for a morning hike or bike ride with this spicy coffee recipe.
Ingredients
Dark roast coffee
Nutmeg
Ginger
Cocoa powder
Milk
Mix a 1/2-teaspoon of nutmeg and ginger and a tablespoon of cocoa powder into your fresh brewed coffee. Add in a splash of milk to enjoy this gourmet coffee that you won't soon forget.
The Classic Irish Coffee: Adult-Only
Give your morning more than just a caffeine boost with this classic gourmet coffee recipe.
Ingredients
Medium roast coffee
1 shot Jameson
1 shot Baileys
Whipped cream
Mix the Jameson and Bailey's into your freshly roasted coffee. But that's not all—top it with whipped cream for a truly gourmet experience.
And for the non-alcoholic drink:
Thin Mint Java
Get a fresh start with this minty gourmet coffee recipe. With just two simple ingredients you can transform your java into a homemade peppermint mocha beverage. You can achieve the same affect if you add a bag of peppermint tea
Ingredients
Light roast coffee
Peppermint extract
Chocolate syrup (if you use hot chocolate, skip the syrup)
Douse your brewed coffee with 1 to 3 drops of peppermint extract and 2 dollops of chocolate syrup. Stir everything and sip it with a newspaper in hand.
S'morning Pick-Me-Up
This fun coffee recipe is not only non-alcoholic, but it's perfect for that sweet tooth. Fun toppings make it look gourmet, too.
Ingredients
Medium roast coffee
Chocolate syrup (if you use hot chocolate, skip the syrup)
Fluff
Whipped cream
Graham crackers, crushed small
Mix a spoonful of fluff and chocolate sauce into your cup of coffee. Top it with whipped cream and the crushed graham crackers for a gourmet presentation worthy of the pickiest coffee drinkers.
Be sure to those pictures of your RVing Christmas on our Facebook page!
What's Happening!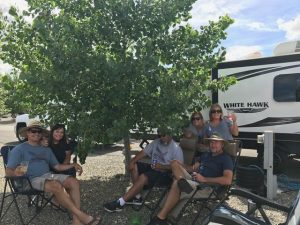 December is for celebrating at New Frontier RV Park.  Check out these dates:
Dec 2-3       Christmas Craft Show
Dec 8-9       Cody Louk Invitational Wrestling Match
Dec 16        Parade of Lights
And just in case those don't get you ready to jump in the RV, you can always celebrate:
Dec 4           Wear Brown Shoes Day.  (Why?  Who knows?)
Dec 8           Pretend to be a Time Traveler Day.  (Plan a Dr. Who Marathon.)
Dec 19         Ugly Sweater day
Dec 25         Christmas Day
Any of those are a great excuse for a quick getaway.
Any of those are a great excuse for a quick getaway.  
Give us a call at 775-621-5277 or Book your reservation at www.NewFrontierRVPark.com.
Hope to see you here. 

 BTW, for those of you wanting to stay 6 months with us, we have a special going!! Move in between Oct 1 and Dec 15, and for a six month commitment we will pay the taxes for your site for the entire 6 months! That's $42.60 per month, plus we will give you your 6th month free! That means you will save $255.60 in taxes over the six month period plus another $355 for the rent for the sixth month. Let's get started saving!