Lessons Learned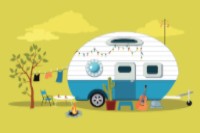 Love, love, love November!
It's beautiful out with occasional snowfall. Still nice enough to get out and go for a hike or sit around the campfire.
For some of us RVing is winding down for the winter.  If this applies to you, then you are thinking of what you need to do to get the RV ready to hibernate for the winter.  Here is a great checklist to use.  
For those of you who love to RV all year long, there are some challenges to staying in the RV during the winter months.  Here are some tips for you.
And don't forget!  If you want to get away and don't want to use the RV, we have beautiful park models for you to stay in.  Give us a call!
What's Cooking?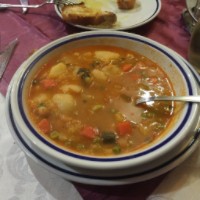 Ingredients:

1 whole, bone-in turkey breast, 5-6 pounds

1 stick butter, at room temperature
¼ cup chopped fresh herbs, such as rosemary, thyme and sage
1 teaspoon grated lemon zest
1 teaspoon grated orange zest

Juice of 1 lemon
Juice of 1 orange

Directions
1. Blot the turkey breast dry with a paper towel and trim off any excess skin or fat.
2. Place the turkey breast on a rimmed baking sheet and let sit out at room temperature for 1 hour.
3. Soak wood chips in water for at least 30 minutes.
4. In a medium bowl combine the softened butter, mixed herbs, lemon zest and orange zest. Use your index finger to gently loosen the skin, (leaving the skin attached and being careful not to poke holes in the skin) from the turkey breast and carefully rub half of the butter mixture all over the turkey breast.
5. Prepare the grill for indirect cooking over medium heat (350º to 400º) and place a large disposable drip pan in the middle of the charcoal grate between the char-baskets. Once the grill has reached the desired temperature, brush the cooking grate clean and place the drained wood chips on the charcoal.
6.  Melt the butter and stir the lemon juice and orange juice into the remaining mixture.
7.  Brush the turkey skin with the melted butter and grill the turkey breast, skin side up, positioned over the foil pan, over indirect medium heat, with the lid closed, until the skin is golden and the internal temperature reaches 165º in the thickest part of the breast (not touching the bone), 1 to 1 ½ hours.  Baste the turkey with the melted butter every 20 minutes or so.
8.  Remove the turkey from the grill and let rest for 15-20 minutes.
Be sure to those pictures of your gorgeous turkey on our Facebook page!
recipe courtesy of:  http://weber.com
What's Happening!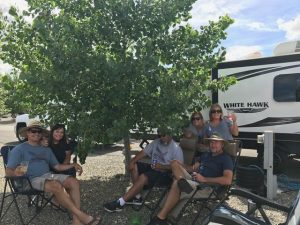 November is a fun month at New Frontier RV Park.  Check out these dates:
Oct 7 – Jan 31, 2018  Chukar Season is still going on.  (How about Chukar for Thanksgiving?)!
Nov 1          WSRRA National Finals Ranch Rodeo
Nov 2           Men Make Dinner Day!  (And no, ordering out does not count.)
Nov 23        Thanksgiving Day
Nov 25-26   Lions Club Festival of Trees
And just in case those don't get you ready to jump in the RV, you can always celebrate:
Nov. 9     Chaos Never Dies Day
Nov. 17   Take a Hike Day
Nov. 22   Go For a Ride Day
Nov. 28    Red Planet Day
Any of those are a great excuse for a quick getaway.  Give us a call at 775-621-5277 or Book your reservation at www.NewFrontierRVPark.com.
Hope to see you here. 

 BTW, for those of you wanting to stay 6 months with us, we have a special going!!  Move in between Oct 1 and Dec 15, and for a six month commitment we will pay the taxes for your site for the entire 6 months!  That's $42.60 per month, plus we will give you your 6th month free!  That means you will save $255.60 in taxes over the six month period plus another $355 for the rent for the sixth month.  Let's get started saving!